At Willow Greenhouse, we love autumn and all of the great plants that come along with the cooler temperatures. There are so many ways to extend your gardens and landscapes — from mums and pumpkins to the return of pansies and celosia. Also, have you checked out ornamental kale? Stunning!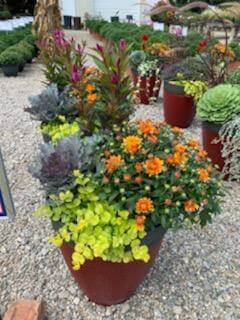 Fall Blooms and Decor
Show off your love of autumn with some beautiful fall flowers, accent plants, and more!
35 varieties of mums in five different sizes
Breathtaking fall porch pots
All the best fall plants for your accent gardens, including Asters, Celosia, Pansies, and Ornamental Cabbage and Kale
Fall Porch Kit: 9" mum, cornstalk bundle, ½ bale of straw and pumpkin
Huge variety of pumpkins plus straw and cornstalks
Chicken Day: September 18
Our friends from Genuine Roots Farm will be at Willow Greenhouse on Saturday, September 18 to sell chickens! Whether you're looking to expand your backyard flock or this is your first time, these mid-size chickens will be a great addition! We'll have hens and roosters available, as well as a great selection of breeds. Prices range between $10 – $15.
Barred Rock
Rhode Island Red
Light Brahma
Silkie
Easter Egger
Amberlink
ISA Brown
Wellsummer
Pearl Star Leghorn
… and more